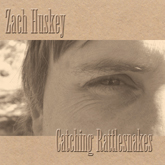 ---
Reviews - Brief Description - Song Titles - Photo - Purchase CD - 2004 Performance Schedule - Bio
---

"...a country Tom Waits-meets-a-hillbilly-Neil Young...unique blend of traditional folk/Americana, country/western and hillbilly, with the occasional hint of blues."
- Tracy Dietlin, DESERT POST WEEKLY
---

"Catching Rattlesnakes" offers a sound beyond traditional Folk/Americana. Zach Huskey's new cd is a culmination of excellent song writing and creative presentation. These "folk" songs contain elements of rock, blues and country/western with eclectic non-traditional percussion instruments.
---
---

Black Bart
Lonesome On The Vine
I Ain't Got The Blues
Tasha's Wooden Ship
Catching Rattlesnakes
Calico Joe
Never Alone
October In The Mountains
Sage and Zane
Dear Edward Abbey
Memphis Boombox
Click here for the lyrics of these folk songs

---
---