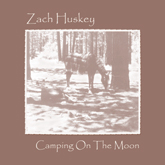 ---
Reviews - Brief Description - Song Titles - Photo - Purchase CD - 2004 Performance Schedule - Bio
---

"Huskey was independent back when independent wasn't cool (well, it was cool, but the mainstream hadn't yet given it the Cool rubber stamp). For once not hiding behind a band name, here he releases unplugged-meets-demo material based on rock-steady acoustic guitar. Rising up from the stolid melodic foundation is some of the most eccentric singing found outside of novelty acts. The songs characters have as many endearing faults as do the nasal-inclined vocals. A few lyric choices seem lazy, but more are unpretentious and likely to bring smiles. The title track and closing This Haunted Shack quietly bring forward themes like parenting and aloneness in a style that's quite original, but not too removed from Neil Young."
- TEL, http://louisville.com
---
---

Quite simply, it is a collection of folk songs and Zach's first solo cd. After five successful cd releases with his band's Primordial Blues and Dali's Llama, we decided to release a cd of his music the way it is written, just Zach and his guitar (well he did throw in a little kalimba and an old piano, too). You will find the songs speak for themselves in the stories they tell and the imagery they provoke.
---
---

Move
Juanita Rose
Henry "Bill(y)" Knox
You Were On My Mind
Moonlight On The Lake
Believe My Love
Camping On The Moon
It's All Blues To Me
Apology
Lady Of The Stairs
Welcome Song
Desert Living
Coyote Cry
Closure
This Haunted Shack


Click here to see the folk song lyrics

---
---