---
Limited Edition Vinyl Only Release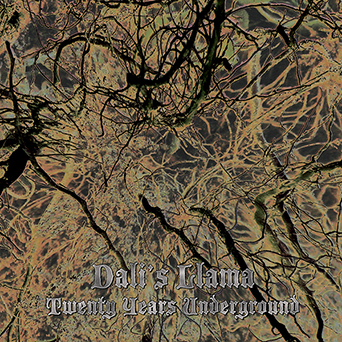 ""If someone were to erect a shrine to the founders of the Desert Rock scene, an imposing Mount Rushmore-style monument, the four faces would have to be Mario Lalli, Herb Lineau, Sean Wheeler and Zach Huskey. Other Desert musicians have received more recognition and achieved more notoriety, but these guys were the originators, the pioneers... Although this isn't the lavish, career-spanning box set the band deserves, Twenty Years Underground gives you a tantalizing taste of power and majesty that is Dali's Llama. It will leave you wanting more." - Coachella Valley Weekly
---
We formed DALI'S LLAMA RECORDS in 1993 in the tradition of (DIY) independent record companies. We remain dedicated to producing quality music, covering a range of music styles including hard rock, alternative, power pop, Americana / folk, blues, improvisational and experimental. The DALI'S LLAMA RECORDS catalog includes independent music artists Ogressa, Primordial Blues, Zach Huskey and of course, Dali's Llama.
We continue to be unique among independent record labels by, in 1998, expanding the DALI'S LLAMA RECORDS catalog to include independent books as well. Our book catalog includes Avante Garde Classical Music Scores as well as Poetry / Prose.
We hope you enjoy browsing our web site and our catalog of music and books. If you have any questions or require any additional information, please contact us at: writeus@dalisllamarecords.com.
Thank you.