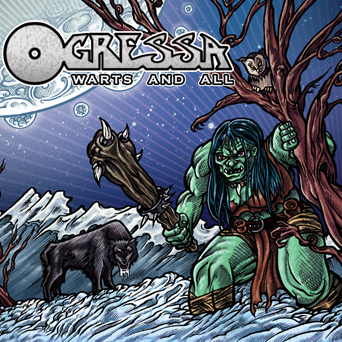 ---
Reviews - Brief Description - Song Titles - Band Photo - Purchase CD - MySpace - Facebook - Ogressa.com
---
"Remember the first time you experienced Goatsnake? Well, the Californian desert has again come up trumps. Ogressa, featuring desert-rock royalty in the form of Zach Huskey and Scott Reeder - not to mention the underrated talents of: Trent Ramseyer (lead vocals), Joe Dillon (guitar), Mike Jacobson (bass) and Ian Dye on drums - revisit the classic combination of way-low tunings and mid-tempo grooves. Heaviness personified." - CHYBUCCA SOUNDS
"I came home today to find an envelope in the box. It was something from Dali's Llama Records. I thought that Dali's Llama turned out another album that I somehow missed out on the progress of. Turns out I was partially right. Ogressa is a side project of Zach Huskey (Guitar, some vocals), one part of the great Dali's Llama. The rest of the band is filled in by Trent Ramseyer (Whores of Tijuana on vocals and percussion), Ian Dye (drums, percussion, backing vocals), Mike Jacobson (bass), Scott Reeder (from Kyuss duh! on bass), and Joe Dillion (guitar).
Ogressa isn't a desert rock album like Dali's Llama. It's sound is a more down tuned version of a Whores of Tijuana album. Less stoner, more doom. The album is somewhat all over the spectrum but yet all within the same realm. It's heavy rock/doom done right. Right from the start the vocals are familiar. Trent's voice gets it going with "Give Me Some Space.""Lady Ogress" is a slow and down tuned song, a true doom track. "The Boss" is a cover of a song by The Mutants. I've never heard the original but it's an instrumental with a cool upbeat and bluesy vibe. It does make me want to seek out the original to hear it. "Sonoran Debris" features Zach on vocals and is more acoustic than doomy. The last and final track, "Animal Mask" is my favorite track. It's starts off at a nice even pace and picks it up at the end. Track of the year? Possibly.
Ogressa's Warts and All was quite the surprise and after all, who doesn't like surprises? It's got lots of bass, lots of guitars, gruffy vocals, a cool instrumental, what isn't there to like? Check out "Mange" below and follow the links to buy your own copy." - THE SODA SHOP
"Zach Huskey, the prolific guitarist/vocalist for the long-running, Palm Springs based riff artisans Dali's Llama is back with a brand new project Ogressa. That's not say the Llama has conquered its final dune; in fact I think the truth is very from that, but it seems he's found a new outlet for his heavy music expressionism. Joining him in this newly founded quest is Whores of Tijuana drummer/now turned vocalist Trent Ramseyer, bassist Mike Jacobson, and drummer Ian Dye. There's also some Scott Reeder action on 3 out of the 10 compositions on, Warts and All, so anyone who misses the heyday of the desert dwelling, 90s stoner rock grooves will be crackin' a cold one in celebration of this release...I just hope you don't mind A LOT of doom, and a little bit of southern rock added to the proceedings! You don't mind do ya?
After a somber, acoustic guitar lick strikes a moody nerve during the opening seconds of, "Give Me Some Space," the band strikes pay dirt in the form of a towering, Sabbath-y riff that sounds like someone threw "Hole in the Sky" out into the middle of the road, right in front of an incoming Hell's Angels biker swarm. Ramseyer's gruff, semi-melody inflected ramshackle roar works perfectly over the molten rhythmic hues, and greasy gear riffage. There's a nice separation and clarity to the instrumentation, the production clearly splitting the bass from the guitars, as Jacobson's crisp low-end resonates deeply, pushing drummer Dye to ride the crests of the guitar/bass groove riffs with steady handed, tactical snare fills, and booming toms. A mystical midpoint arrangement allows some jangly, Spanish flavored acoustic guitar runs to seep through, as Huskey undercuts the introspection with washes of feral distortion, ejecting the band at light speed into the eye of a cosmic guitar solo.
"Mange" is up to no good from the very first Earthride/Turambar flavored sludge riff. It's got that stuttering churn exhibited in the tempo/drum work, everything slinking and shucking along at half speed, with moments where the lumbering grooves drop out, leaving center stage to the drums. Ramseyer keeps chewin' on a slow nail throughout, occasionally letting more melody enter his whiskey addled phrasings whenever the main riff changes up into an uplifting, Sabbath lit groove; marking a great launch point for another one of Huskey's soulful solos, his fingers wrangling the strings with an even-keeled, Iommian tact. It's a stark contrast to "Rational Man," which starts off with doomy undertones conveyed through the single note, distorted riff strum, but abandons the idea for wah-dapped, southern fried guitar leads (reminds me of a heavy Skynyrd overall), funky riffs and rhythms (Reeder providing bass), and a chorus distilled from the finest Mason Dixon moonshine (complete with clean, melodically minded background vocals, going toe to toe with Ramseyer's jagged snarl). Just when you think you've got the song figured out, the band winds things out with a chugging, metallic riff/rhythm salvo that still provides ample room for Huskey to pile on his appetizing leadwork. I probably coughed up about two ounces of dust after listening to this album highlight!
Intermission track "She Awakens" is nothing more than a bunch of grumbling, wheezing, snoring, rattling traps/chains, and ambient background noise, no doubt meant to set the stage for the sluggish, bloated doom crawl of, "Lady Ogress." This one is about as hopeless as doom gets, breaking its teeth on the iron spine of languid sludge, emphasizing fluidity with the crystalline bass licks that rise right up from the swampy guitar grooves, and morphine drip vocals. By the time the band steamrolls halfway through this piece, they augment their riffage and rhythms into something just a click faster; again making me feel like dropping Earthride's name is a justifiable and worthwhile maneuver. I'd also dare say there's some Vitus in this one, especially when Huskey offers a melancholic guitar lead over a crippled doom lurch...an effective measure that's so oppressive and threatening, I felt like I had a knife extended from the speakers to my throat, forcing me to bang my head.
Reeder comes back to steal the show on, "The Boss," a cover of a tune by The Mutants. I have no familiarity with the original version, so I encourage someone with more knowledge than I possess to check my work here. It's a quirky instrumental number with a plethora of Scott's patented, nimbly picked bass grooves leading the charge and subsequently, trading boilermakers with Huskey's call and response, wah-wah guitar leads. Eventually things unfurl via one psyched-out solo after another, carrying the track peacefully back to the barren grounds from whence it came, as it coasts on dipping, rhythmic haunches. The Kyuss alum sticks around for the mostly acoustic (backed by fuzzy guitar leads that are layered deep beneath the primary acoustic guitar/bass licks), "Sonoran Debris;" almost in some ways, a completely reimaged remake of Kyuss' "Space Cadet," complete with breathy, subdued vocal work that matches the instrumentation's aura of a lingering, Pink Floyd revenant wandering the Cali dunes.
The remainder of the record stays firmly rooted in riff mode, as the melody intensive guitar riffs, punk ethos, and grunge-friendly swing of "Cuts on my Scars," are as much 90s Seattle as they are 90s Man's Ruin. "Snakehead" marks a return to the mountainous crags of southern stoner/doom; it's slow, and relentlessly dogging in terms of its sticky, convulsing tempos, but certainly leaves the door open for the blues to come wandering in. Putting the stake in the heart of this wholly stellar debut, "Animal Mask" returns to the chunking, Earthridian groove dirge, but hopscotches its way in front of a freight train loaded with explosive Motorhead punk/metal riffs during its final minute of playtime. The only thing left standing in the wake of the explosion's aftermath is Lemmy's mustache.
This is grade A, desert revival rock right here with some added influences of burly doom, and graceful, 70s southern rock. The band's compositions and musicianship are truly sincere, and boiling over with rays of desert sun. It's doubtful that Warts and All will be lauded for blazing a brand new path, but I'll be damned if there's not a bum tune in the bunch...and astute listeners that listen closely, should come away knowing that there's some tricks thrown into Ogressa's sound that are not directly lifted from the Stoner Rock 101 course books. Yes, it's a tried and true blueprint...but the way this band lets other influences creep into their sound gives 'em just enough of an edge to stick out far above cavalcades of cookie cutter rockers. If you are one (like myself) who refuses to let the ghost of the desert die easy...I think you'll find Warts and All an out and out ear pleaser! Recommended." - HELLRIDE MUSIC
"Ogressa is a new band project by Dalis Llama guitarist Zach Huskey and they too have a nicely rough, dirty stoner/desert rock attitude but the music is somewhat heavier than Dalis Llama's at times getting close to even doom. The other musicians are Trent Ramseyer (vocals, percussion), Ian Dye /drums, percussion, backing vocals), Mike Jacobson and Scott Reeder (Kyuss!) share the bass duties and a couple of tracks also feature guitarist Joe Dillon. They are all respected Californian musicians.
The 49-minutelong CD that comes in a nice digipak includes 10 tracks. One of the best pieces is the opener "Give Me Some Space" that also found its way to one of my Astral Visions web radio show. This is very well working, low-tuned, mid-tempo heaviness a bit in the Black Sabbath style ("Hole in the Sky...)! There's a little, serene section with acoustic guitar in the middle. "Mange" and "Rational Man are a little more towards desert rock, "She Awakens" is just a short, minimal intro for the heavy and slow number called "Lady Ogress". This is genuine doom and also kicks ass! The Mutants cover "The Boss" is an instrumental jam that sounds a bit like filler although there is some great playing in there. "Sonoran Debris" is a tender and peaceful acoustic track and the following, energetic and fast "Cuts on My Scars" rocks with full power and some punk attitude. "Snakehead" is great stoner rock as well as the last, more boogie-like "Animal Mask" that starts to rock faster in the end. This is an excellent album of true, honest and hard rock music that you should really check out!" - PSYCHOTROPICZONE
---
---

Once upon a time in a wasteland of prick and sun, there were a few mangy cats that had to get lower and heavier to dwell in the realm of doom. There was Trent (one of the Whores of Tijuana) who commanded with his spellbinding throat, Zach (the Dali's Llama) who enchanted with the SG, Mike (a Hot Beat Pussy Fiend) who hit bottom, and Ian (of Ape Has Killed Ape) who put wood to skin. Joining them on a few jams of their quest was low-end Reeder (from the demigod Kyuss) & sex ranger Joe, aka Chuck E. Sleaze.
Their journey began when Zach went out into a desolate space and returned with these tunes (tuned two and a half steps lower than the normal hominid can hear).
Lore implies the songs reside in a dimension of ogres and wizards, witches, sand and snow, snakes and bitches with mange and dissatisfaction. Metaphors abound in words of the ordinary man's struggle to survive. A purple and green wintery Black Sabbath Land of Doom with yellow eyes.....and a smirk. With brush to paper, Sean "Skillit" McEleny brought her image to life. This is how the fun began!
We hope you enjoy your journey as much as we have. Thank you for taking the time to play.
---
---

Give Me Some Space
Mange
Rational Man * ^
She Awakens
Lady Ogress
The Boss * ^
Sonoran Debris *
Cuts On My Scars
Snakehead
Animal Mask
PLEASE NOTE:
"The Boss" and "She Awakens" are only available on the physical cd, they are not available for digital download. "The Boss" is a cover song originally performed by The Mutants and written by Tom Morwatts (Honesty In Rock publishing)
---
---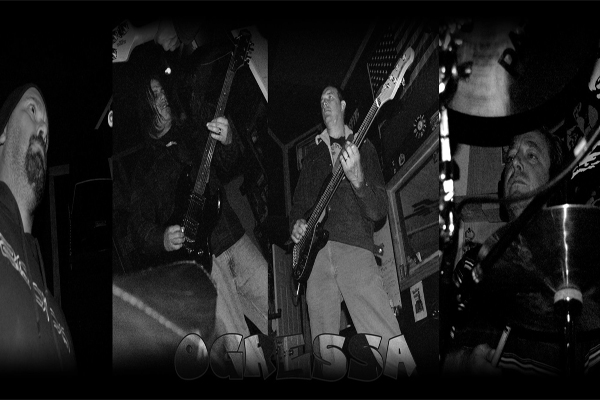 Trent Ramseyer - vocals, percussion · Zach Huskey - guitar, sometime vocals · Mike Jacobson - bass · Ian Dye - drums, percussion, backing vocals

*Scott Reeder - bass · ^Joe Dillon - guitar