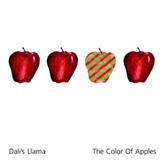 ---
Reviews - Brief Description - Song Titles - Purchase CD
---

"Most jam sessions are far more fun to play than to hear. This is an exception. This collective improvisation (i.e. spontaneous composition) really works. What sets it apart is a sense of swing and dynamics. Something special was created out of a void that day in ´95. There is substance here. Pay close attention. This difficult music is quite rewarding. How much you hear in it depends on your attention span. Happy accidents abound. There is a refreshing lack of nihilistic overkill. (Still, mello it ain´t.) Hey, call it No Wave blues (with a smile). Give it the good hard listen it deserves - it will never happen again."
- Phil Liebert, MUSICIAN/COMPOSER
---
---

Continually evolving, DALIāS LLAMA, after successful cd releases in the Power Pop, Alternative & Rock genres, recorded this Experimental/Improvisational cd in 1995. Zach Huskey (songwriter/band leader) wrote these songs using elements of the avant-garde music pieces he was working on at the time. Listeners will hear bowed electric bass (a repeated figure throughout the last song) with other members improvising over it. Players were given a maximum set of notes (usually 3 to 5) that they were limited to but encouraged to play in any combination they chose. Zach also uses an offshoot of his "paper clip prepared" guitar pieces, in this case "flubbed guitar" (extremely de-tuned electric guitar sounds).
---
---

First Things First
The Color Of Apples
Five To Five
Blue Jay
Aboriginal Man Contemplating The Universe Under The Night Sky


---