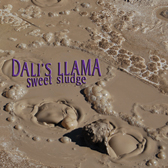 ---
Reviews - Brief Description - Song Titles - Band Photo - Purchase CD - 2007 Shows - 2008 Shows - MySpace
---
---
"Dali's Llama is a hard rockin' riff metal band from deep in the high desert underground. They have a highly idiosyncratic take on their chosen genre, a thick espresso of idiosyncratic, heartfelt intensity that comes straight from the spirit.
Dali's Llama seems to primarily be the riff rock expression of Zach Huskey, a voice in the desert underground from way back. This is their sixth album, so it's all the more surprising that this one hit me out of left field. After all, I'm always on the lookout for new versions of desert goodness, yet Zach and Co. has eluded me thus far. Not so, however, for ex-Kyuss/Che/Orquestra del Desierto/Obsessed and/or Unida members Alfredo Hernandez and Scott Reeder (Sweet Sludge's producer), who offer convincing testimonials on behalf of their old bro, which were included in the review package.
Testimonials don't always mean much, but when you're talking Scott and Alfredo, then it's best to listen up. "Sweet Sludge" may not be too sweet, but it's a desert grower. This is deliciously distorted riffage to make your bloodshot eyes close in bliss. Zach is a singular talent: not only does he have the songwriting and the riffs, but he's got plenty of vocal weirdness to go around, with unusual lyrics that offer a unique take on reality. Lyrically, this album is a paean to Mother Earth on a symbolic or allegorical level, the likes of which haven't been seen since Captain Beefheart praised the birds and beasts lo these many years ago. Subtle.
The music is a no-nonsense, unpretentious ode to the riff: no flashy solos but plenty of DIY playing wrapped in a bright layer of catchy accessibility. It's a heavy shot of the underground with an overground chaser, a trip rich in invisible detail that may get you thinking. Or inspire visions. The only caveat is that the rhythm section seems stuck in a mid-paced groove that gets plodding and somewhat samey at times. The most effective tracks are the simple, slinky "Raven," the spacey "Creosote," and "Micro Giant's" 70s FM groove.
The interesting thing is that the more you listen to its deceptive simplicity, the more "Sweet Sludge" has to reveal. Nobody sounds exactly like these folks, though Masters of Reality may provide a useful comparison. Strangely enough, I get sympathetic vibes from veteran underground West Virginia acid eaters Poobah, mainly from the vocal fillips and the overall sense of subterranean psych visions. Whatever; Dali's Llama has mad heart, and they're deserving of your attention."
- Kevin McHugh, STONERROCK.COM
"Produced by Scott Reeder (Kyuss, The Obsessed), Dali Llama's "Sweet Sludge" is a CD that mostly reviews itself. While Dali Llama does lack a little of the power of the best sludge stoner acts, it's still a tasty dip into the realm of heavy psychedelic rock. The fuzzy grooves easily draw the listener into trip rock territory. The vocals boast a sneering edge that adds a distinctive touch to the band's sound. The music on Sweet Sludge combines modern stoner rock with a bit of old school psyche rock rollicking. It's got attitude and offers itself to you as is - take it or leave it. For my part, I'll take it. Grit and distortion, space and swamp - it's a dip into hookaliciousness."
- Upchuck Undergrind, CORAZINE
"Def.: a "sand vs. swamp" stomper. Dali's Llama swipe any guitar riff they loved forever and put the band on "grit hum" cruise and drove that dumb fuck Kiss, Danzig, Sabbath, Bang riff as hard as it would bear up under the clear desert moon in the biggest carport God's ever thrown up. A buddy said this is what he'd would expect a Pentagram-influenced Stoner Rock (not metal) band to be. Kinda the cobwebs behind grunge's purported "metal/punk" fusion itself, duh-media shorthand for the exploded extrapolation upon SST records '80s hoopla. A time and feel which head Llama Zach Huskey has to be intimate with. Hell, this is LP six! I threw these words at five: "This disc is full of chugging tense rock and roll with a non-denominational punk ethic curling under hardened boogie cum cock rock guitars/rhythms all riding commentary from a gritty-eyed libertarian position."
Considering the fluid, stylistic swerve between the two, I'd like to know what's up with the others, as well as the "roots rock" work he's done the past decade. It's cool when a band can move around within "rock" without overtly changing tact. Generally, it's a commercial move, not musical one. These songs hide nothing: Garage simple tubs/bass support riffy ker-chug with vocals sharing that sliding haze best known via Alice In Chains. If they suck, you know immediately. They do not. Will "Creosote" sit between Kyuss' "El Rodeo" and Jucifers' "Four Sons" for a mix disc made for, say, a nine hour red-eye ride to catch a show? Yes, it will."
- Craig Regala, LOLLIPOP.COM
"When lead singer and guitarist Zach Huskey growls out, "Sweet sludge is the brew of life" on the album's title track, you believe him, because Dali's Llama makes music so heavy, organic, and full of sludgy goodness that you can't help getting into what they're saying. The album, their sixth, is produced by Scott Reeder, former bassist of legendary stoner/desert rock band Kyuss. This is music that's down to earth and raw. There's no fancy, virtuoso playing or high art pretensions here. Zach Huskey lays down some heavy, ballsy blues based riffs in conjunction with his wife Erica's fuzzed out bass and Robin Clewell's pounding, straightforwardly effective drumming. Huskey does throw in some nicely creative leads as well. He often sings with a snarl to his voice, but he can also sing quite melodically too, in a zoned out, druggy kind of way, and Clewell's subtle female backing vocals lend the proceedings that extra hint of earth mother mysticism. The lyrics concern mystical experiences, ghosts, and environmental issues, sometimes mixed together, and are always intriguing. Some of the songs, like Micro-giant and the excellent Raven, have that 70's heavy rock vibe to them; sort of Black Sabbath meets Nazareth (and we're talking Hair of the Dog Nazareth here, not Love Hurts Nazareth), but the overall mid-tempo pace and extra heaviness of the album infuses it all with a delirious and blissful stoner vibe that is quite tasty. Sweet Sludge is the brew of life, indeed!"
- Jeff Fitzgerald, AURAL-INNOVATIONS.COM
"Dali's Llama is a heavy desert/sludge/doom/stoner rock trio from Plam Springs, California. The band has been active in the desert rock underground for some time now and this is their sixth album. The album was produced in four days by Scott Reeder, the bass player for Kyuss and The Obsessed, and it in fact has some similarities to both of those bands, for example. Other influences the band have include Iggy Pop & The Stooges, Black Flag, Mudhoney, Dinosaur JR, Black Sabbath and Led Zeppelin.
The band has a nice, heavy and punchy sound. They don't use extremely down-tuned instruments or anything like that, though. The band's guitarist and leading figure Zach Huskey also has great and colourful singing voice. The other members are his wife, the bass player Erica Huskey and the drummer Robin Clewell. Their music is very riff oriented and doesn't include any useless fancy stuff or tricks. Some of the tracks are still pretty catchy, like the well rocking numbers "Scram" and "Raven". The album's opener, the heavy and rather slow "Earth Mother Spin" that sounds a bit like The Obsessed as well as the groovy "Love Is Mammoth" both also have a guitar solo, as well as the AC/DC influenced "Micro Giant Man". The tempo is mainly middle-paced, but at times they go for slow doom tempo. The punky "Age of Myth" is a little faster piece. The heavy, darker "Orca" gets quite close to heavy metal and reminds me of Manilla Road, probably mosty due to the great vocals. Sweet Sludge is one of those albums you learn to like a lot only after listening to it several times. This band would be great for the Roadburn festival. Let us worship the Riff."
- Dj Astro, PSYCHOTROPIC ZONE
"From the desert with love comes the melodic fuzz rock of Dali's Llama, a trio which boasts the production of Scott Reeder (Kyuss, The Obsessed).
Deliberate beats that emit a near-tribal feel intertwine with demonic riffs that dually conjure up punk rock fury and stoner rock freedom while the vocals channel Layne Stayley on a mushroom high all over this swampy 10-track affair, enough to leave you sticky with delight for weeks on end thanks to cuts like "Creosote" and "Earth Mother Spin."
Adorned with a psychedelic twist that helps envelope the listener, the overall wicked atmosphere this simple (on the surface) release throws out produces the kind of sturdy riffs suitable for smokeouts ("Micro Giant," "Age of Myth") as well as a whole lotta underground rock whose haunting melodies and gritty delivery stand out as prime reasons to pick this disc up and give it a spin on a long, lonesome drive."
- Mike SOS, ROUGHEDGE.COM
---
---

"They were out here a few weeks ago - tracked and mixed it in only four days! It was good to hang out again with my old pal Zach Huskey, who's been a stalwart of the desert music scene since our high school daze together. Along with his wife/bassist Erica and drummer Robin, Dali's Llama have been working hard - hardcore DIY, and in it for all the right reasons - for the pure joy of making music. Zach's always-thought-inspiring lyrics, coupled with epic song structures, are tossed off as if it's no big deal. After a few listens, a deep appreciation develops for the love that goes into what they do together."
Scott Reeder
Producer of Sweet Sludge and Bassist for: Kyuss, The Obsessed, etc.

"Way before Kyuss or Queens of the Stone Age, Dali's Llama frontman Zach Huskey was a musician to be reckoned with. Today's Dali's Llama are punchy, powerful and to the point. Dali's Llama is one of the best desert rock bands today and the best live desert rock band around!"
Alfredo Hernandez
Drummer Extraordinaire and Co-Founder of: Across the River, Che, Family Butcher, Yawning Man, Desert Sessions, Orquesta del Diserto, The Woodys, etc.
---
---

Earth Mother Spin
Orca
Scram
Raven
Sweet Sludge
Creosote
Micro Giant
Hunt The Hunters
Age Of Myth
Love Is Mammoth
---
---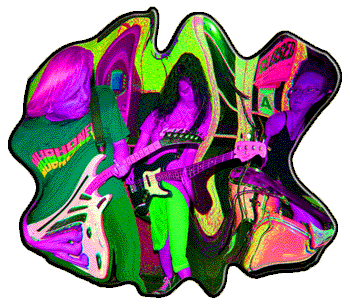 Zach Huskey - guitar & vocals &middot Erica Huskey - bass (electric - standard & bowed) &middot Robin Clewell - drums & vocals