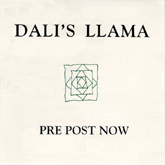 ---
Reviews - Brief Description - Song Titles - Band Photo - Purchase CD
---

"Pre Post Now is a cd full of very catchy songs that get stuck in your head without you even knowing it!"
- Sophia Possidon, FLIPSIDE
"One of the more promising groups from the local alternative scene, this is an accessible guitar driven trio."
- Bruce Fessier, DESERT SUN
"...could be from another era since there is none of the post-punk sensibility that is on a zillion CD's I get nowadays."
- Shane, FLIPSIDE
---
---

"Pre Post Now", the cd that started it all for DALI'S LLAMA and more importantly, DALI'S LLAMA RECORDS. "Pre Post Now" is full of earthy power pop songs. Listen closely to the Neil Young"esque" Art And Meditation and you will hear the improvisational elements that would pour out in future DALI'S LLAMA cds. Great songs with so-so production quality. For us it is a positive piece of history.
---
---

Green Star
Pretty Colors
Balance
Sounds So Blue
In Your Room
Pre Post Now
Sky
All Alone
High Country
Sammantha Jones
Coastal Woo
Art And Meditation


---
---