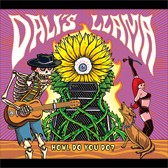 ---
Reviews - Brief Description - Song Titles - Band Photo - Purchase CD - MySpace - Facebook
---
"Palm Springs' based desert dealers, Dali's Llama return with a brand new disc, Howl do you do? A full year hasn't even passed since their last record Raw is Real, hit my mailbox, and after the strength of that disc, in addition to Full on Dunes, I'm sold. I'm still slacking on their back catalog, but for now we'll have to move on with the new! Erica pretty much forewarned me that this is an experimental disc with the note included in the package. The goal of this one was to produce a fun album, filled with the band's garage/punk ideals. Aside from the band's fuzzy guitar licks, and sun-baked Man's Ruin sensibilities, I can hear everything from the Pixies to the Damned to the Murder City Devils in this stuff. Heavy on the organ (as so passionately played by Mikael Jacobson), wily with a rhythm, guitars chockfull of buzzing distortion and an all around stripped-down aesthetic, Howl do you do? succeeds with its mission, creating catchy songs that are memorable, and gimmick free.
This is good, hard, classic leaned rock with a distinct, garage-y feel. It's apparent from opener, "Flustrated," that we're dealing with a different animal here, than we were on the past two releases. The fuzzy, yet not overly heavy riffs and paired down rhythms, are the meat n' potatoes that makes rock n' roll so appealing in the first place. The lead in riff has much in common with the style of the Pixies, it's got that kind of vibe, but the hip- shaking, classic rock groove the song adopts, coupled with the slightly rasped singing vocals, and triumphant organ presence creates a totally different feel altogether. It's the place where lo-fi indie punk/rock mingles with brain frying, classic, psych and desert rock influences, and boy does it sound good. The vibe showcases a million unique sonic colors that melt and ooze, like butter n' syrup over a plate of hotcakes.
"She's my Halloween," sounds like the Damned crossing paths with Deep Purple. Again, it's all about the organ in this one, as it dominates the track from front to back cover. Still, the riffs, leads and deliciously simplistic rhythms hearken to the sounds that Dali's Llama have seemingly made their bread n' butter for years now, but the catchier songwriting and delivery (especially, the beautiful backing vocals from Erica Huskey, and Zach's irresistible lead throat) hints at something completely different. More or less, it takes all of the catchy elements of the Damned, Pixies and Murder City Devils (less aggressive than these cats), and strews them all about the cacti and oasis's populating the great western expanse.
The title track is another scorcher with its long bits of blazing, unabashed guitar solos and organ bravado. Jacobson sounds like Ray Charles tinkling those keys, he's doin' some classy stuff that perfectly compliments the more muted riffs and segments of the songs, going full-blown nuts whenever the Llamas run for the border with a jammed-out approach that showcases them flexing some serious, instrumental muscle. Great riffs abound over a hard-hitting rhythm section, with Erica's slinky basslines and Craig Brown's beats, being a 1-2 rhythmic slugfest to die for. The guitar hysterics of Zach and Joe Dillon, really blaze this thing across the sky, and as I just mentioned…the jam sections in this one, will have your blood boiling at dangerous temperatures.
Something about, "I'm the Trouble," reminds me of the more simplistic blues/rock stuff purveyed by Elvis and solo Danzig (the vocals add to the association, hurdy gurdy low singing prevails here), and the stripped-down 2-step does the rest. Fans of the Llama's more traditional groove will be all over "Flash Flood, Flash Flood." Driving, rock riffs bring to mind some Deep Purple and Clutch in the opening moments, leading us to a verse totally permeated and dominated by the bass n' drum swagger (some excellent work from Erica here), with the organ augmenting said verses quietly, and exploding in volume whenever the core of the band leads the charge. Ripping solos ratchet up the humidity of the syrupy, groove n' go heat wave, as the band shows you why they're the best, Man's Ruin rock n' roll lot, that actually never released an album on the label! The band makes the same statement on "Hortense," although this one is less aggressive, and more of a straight-up, smooth groove machine. Despite, some changes throughout this disc, these two tracks still show the Dali Llama trademark is still as omnipotent as ever, and "Hortense," is filled with arrangements carved from some of the strongest, classic rock granite around. Again, Clutch and Deep Purple are coming to mind, with a touch of the desert greats still ringing through loud and clear. I can point at "You can be My Zoo," for more of the same.
"Infected with the Blues Again," is one shade away from having the same organ line as The Doors' "Light my Fire." Still though, it feels more like a well-realized homage than a rip-off, as there's some old country blood running through the veins of this keeper. The bluesy riffs, and twang-y licks hint more to Hank Williams than Morrison, and Zach's voice follows right along, wrapping itself around a nasally declaration that is pretty far removed from traditional stonerisms or classic rockisms for that matter. LSD laced guitar solos, and semi-heavy, riff rooted runs provide the beatnik backbone, and could have easily been the background music for whenever the Sacred Cow band was playing in those rooms full of swirls and hallucinations during those vintage, Get Smart scenes. "Masochist," is even more psychedelic in nature, and drops the country swagger altogether, getting back to the garage, blues and classic rock that are the very pillars, which support Howl do you do? and its every movement. Nearly 10 minute closer, "Plaid Rainbow," is packed with transitions that range from deafening to subdued and the feel is that of totally classic blues-rock. It brings the desert rock back to the forefront, and jams it out exponentially, with enough buckets of riffs, and organ spilling over that one can't help think of the timeless rock of Deep Purple or Mountain's Nantucket Sleighride, being interpreted by sand dwelling, stoner rock acolytes. The song is an absolute monster that brings together the varied facets of the band's sound, all in one epic-length bundle. There's a surprise at the end, if you let the disc play out past this track, so don't adjust your dials and press stop until the record tells you it's done!
Nothing wrong with a little trip to the chemistry lab! Howl do you do? is an experiment that works. Not as much of a departure from the band's sound as I expected (riffs are still the trail boss on this wagon train), but the quicker, catchier song structures, heavy organ interplay, and the more jammed out feel of the material, sure do show another side to Dali's Llama. This is a great rock n' roll record. No two ways about it. It touches on the garage elements promised for damn sure, but also jacks up the free form, unpolluted classic rock elements to astronomical levels. As Deep Purple as it is the Damned, as The Doors as it is the Pixies, as Man's Ruin as it is the Murder City Devils, and so on… On Howl do you do? Dali's Llama rule the land where riffs are king, the blues are queen, and psychedelic bliss makes up the majority of the royal court. A record that any fan of good, incisive rock n' roll (be it garage, classic, stoner, psych) should be able to get into! The legendary Skillet, also provides electrifying, artistic imagery for you to sink your retinas into." - Jay Snyder, HELLRIDEMUSIC.COM
"Right from the opening track, "Flustrated," it's clear Dali's Llama are having fun with their latest offering, Howl Do You Do? (released through their own Dali's Llama Records). Maybe after eight records of straight up desert rock, the Zach Huskey-led Palm Springs, California, outfit decided it was time to try something else - and who could blame them for that? They've been kicking out fuzzy jams with such regularity that the routine was bound to wear them down, so a turn to garage rock and horror punk is probably just what the band needed to shake things up. A lot of their bluesy core is still in tact, but if all you know of Dali's Llama is what they've done the last several years - records like Sweet Sludge, Full on Dunes and Raw is Real - Howl Do You Do? is bound to be something of a surprise.
The organ features heavily on songs like "She's My Halloween" and "Flash Flood, Flash Flood," played by Mikael Jacobson, who joins Zach, bassist Erica Huskey, guitarist Joe Dillon and drummer Craig Brown (all of whom also contribute backing vocals), but I tend to return more to the piano-laced sounds of the title track, which has a more blues-driven feel to it than the camp spookiness of the horror punk material. Just a personal preference. Huskey's songwriting, probably the central driving force within Dali's Llama, is strong as ever, though it should be noted the structures of the songs haven't really changed so much from the band's last couple full-lengths, just the genre play. It's like Dali's Llama have put on a costume - a Halloween costume, appropriately enough. Underneath, they're still who they are, but they're playing the part of a garage horror punk band for an album. Howl Do You Do? was probably a lot of fun to make.
As the album progresses and "I'm the Trouble" gives way to "Flash Flood, Flash Flood," setting up the back half's five tracks, you begin to get more into the groove and intent of it. I'm not saying Howl Do You Do? is going to be everyone's favorite Dali's Llama record, because it probably won't, but if the Huskeys and Co. want to have fun and explore a different side of their influences, it's not like they're hurting anyone. And the bouncing organ lines of "Hortense" make the track an album highlight, playing off the song's central riff as they do, so even if you're used to Dali's Llama's usual approach, there's going to be something here to cling to. The short, garage-y bluster of "You Can by My Zoo" has Iggy Pop all over it, and "Infected with the Blues Again" balances the different sides of the band best of any track on the record. By the time the closing couplet of "Masochist" and the just under 10 minute finale "Plaid Rainbow" (bonus points for the awesomeness of that title) come around, Howl Do You Do?'s charm has won me over. I don't know if I'll pick it off my shelf instead of Full on Dunes or Raw is Real, but I'm on its side, anyway.
There are a couple minutes of silence (split up over a few tracks) after "Plaid Rainbow," and then there comes an acoustic blues piece by Huskey that's my favorite moment of the record. It doesn't fit with the theme of the album, so I can understand why they buried it, but I hope it inspires further material in that style, because it works within Dali's Llama very well to offset some of the raucousness that's come before. Howl Do You Do? was produced by Jacobson, Zach and Erica Huskey, which in itself is a departure from the last few albums being recorded by Scott Reeder, and though I don't think the recording is holding the songs back, the album does feel like it's not as loud as it should be to start with. Nonetheless, the whole point of Howl Do You Do? is to have a good time, so I'm not going to get bogged down with these kinds of issues. It's not what you'd expect, but taken with an open mind (and maybe a grain of salt), it's easy to call the experiment a success. Dali's Llama put out eight records before this one, and asked practically no indulgence on the part of their audience in the process. If Howl Do You Do? is the tradeoff for that, consider it a bargain." - THEOBELISK.NET
"I was pleasantly surprised last year when I found out that Dali's Llama was working on a new album. Their 2009 release, Raw is Real wasn't even out for 3 months at that point. The bands newest album, Howl Do You Do? Just came across The Soda Shop's "C" office. Now that I've had a chance to listen to it, I'm going to share my thoughts on the album.
For starters you can almost forget everything you've heard from the band for the past number of years they've been putting albums out. This new album has a garage rock feel to it, something the band set out to do. Instead of putting out a desert rock album similar to Fatso Jetson or Angelo Jackson, you have an album more similar sounding to Dollhouse or The Bonnevilles. Really what you have here is a solid album start to finish.
The album starts off with the track "Flustrated" which is a little weird sounding at first but it sets the tone for the album. The guitars are a bit heavy and there's plenty use of the organ. The third track which is also the album name, "Howl Do You Do?" is a fast paced rock number and my second favorite song. "Infected With The Blues Again" is a nice southern blues rock song (thus the name). "Plaid Rainbow" closes off the album with a nice bass line to start and plenty of instrumental playing in a great rocking track that comes in just under 10 minutes. Ok, I lied, there is a hidden track which is a weird little acoustic number bit still cool. I'm not going to spoil it for you, you'll have to listen for yourself.
Howl Do You Do? Is a great album start to end. Fans of Dali's Llama previous work will enjoy this. It's not a far stray from what they've done in the past and it's a nice change of pace. The album keeps their current fans happy while at the same time a good album to draw in new fans. The album is full of catchy riffs and lyrics. It's a very good possibility that you may get a song or two stuck in your head like I did. I've listened to a lot of good albums this year, Howl Do You Do? is one of them. Dali's Llama has two tracks available to listen to on their Myspace page check them out and see for yourself. Let's us know in the comments what you think." - THESODASHOP.US
"I'm a nasty witch and I like nasty filthy music but sometimes I can't resist to the killer, "mellow" rock tunes that some bands are able to produce. That's why sometimes I am schizophrenic in my posting, lol...
You might have realized that among "mellow" bands I love massively there's of course some masters of fuzz, stoner and garage groove, like Josiah, Kings of the Frog Island, Lorenzo Woodrose and his creatures, some British and Detroit-styled rock bands, some stoner monsters (but, sorry, not Fu Manchu!) etc. etc. (looong list...) and, last but absolutely not least, Dali's Llama.
Not much time ago I had posted the 2009 album by these awesome California rockers.
So it's time to get some more of them , like the fantastic, yet "weird" new album, which is apparently quite "experimental". But don't get scared and don't get mislead, the new album is pure, distilled, killer raaaaawk!!!
The band here played the garage-blues-rock'n'roll part and, apparently they had a hell of a time!
"Although we are normally thought of as a tuned-down desert rock "stoner" band, we wanted to make a cd that shows our garage rock roots (with a big heap of raw blues). Hints of The Sonics, Music Machine and The Yardbirds grace this cd, with a more contemporary Fuzztones and The Damned influence. This is our homage to The Nuggets that inspired songwriter Zach Huskey when he was growing up Green On Red like. Join us on our journey through garageville, we'll return to "heavy" soon enough. Hope you dig it." (release notes)
I got this album blindly, I didn't check on myspace before buying. So it was a surprise when I got it. So, as you read above, it's not the strictly typical Dali's Llama although it's a killer album and Zach Huskey's unmistakable, untidy vocals (ohh, I love it!) are still there." - SLUDGESWAMP.BLOGSPOT.COM
"Well, the Realm may be strugglin' to life again here and there, but in doing so it's a lean, mean killing machine. So, besides just having nicked the title of one of Judas Priest's heaviest platters, I'm going to get right to the fuggin' point here! Over recent (hell, even way before recent!) times, the stoner genre has started to fold in on itself and become not only repetitive and derivative (a nod to Rick & Roll, who loves that "derivative" word!) but also just plain shitty. One band whom you can't lay that mantle on is DALI'S LLAMA and their latest, the cleverly monikered "Howl Do You Do?" really bears that out. Simply put, this crew takes that tried-&-true overdriven and distorted stoner vibe and draped over it some super-catchy old time rock & roll melodies that really grab me by the nads. Sheezus, it's almost as if Eddie Glass & Chuck Berry sat down and compared geetar playin' all across this shiny recordable medium and I'm a happier man for it. Only one question, friends...Howl Do I Get This Outta My CD Player?" - RAYSREALM
---
---

Although we are normally thought of as a tuned-down desert rock "stoner" band, we wanted to make a cd that shows our garage rock roots (with a big heap of raw blues). Hints of The Sonics, Music Machine and The Yardbirds grace this cd, with a more contemporary Fuzztones and The Damned influence. This is our homage to The Nuggets that inspired songwriter Zach Huskey when he was growing up Green On Red like. Join us on our journey through garageville, we'll return to "heavy" soon enough. Hope you dig it.
---
---

Flustrated
She's My Halloween
Howl Do You Do?
I'm The Trouble
Flash Flood, Flash Flood
Hortense
You Can Be My Zoo
Infected With The Blues Again
Masochist
Plaid Rainbow
---
---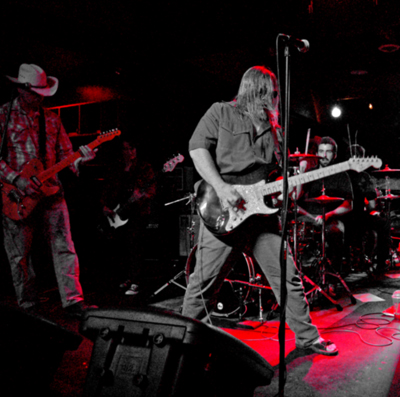 Joe Dillon - guitar & background vocals · Erica Huskey - bass & background vocals · Zach Huskey - guitar & vocals · Craig Brown - drums & background vocals
with Mikael Jacobson - organ and background vocals