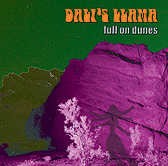 ---
Reviews - Brief Description - Song Titles - Band Photo - Purchase CD - MySpace
---
---
"Dali's Llama last offering "Full On Dunes" is groovy,psychedelic,Fuzzed out Stoner Rock at its best.Produced by Scott Reeder who also plays on a couple of tracks,this is cruising down the highway desert rock.The opening 2 tracks "On Dunes" and "Can't Catch Me" have all the riff rocking swagger of Kyuss and Fu Manchu but with a unique feel of their own.While they have the all the trademarks of a 70's hard rock like a James Gang they have enough of thier own thing going to make them stand out from the pack.In a world where Stoner Rock seems to be getting a little stale it is refreshing to hear a band play with such heart.Listen to the powerhouse of "King Platypus" you will see this band has the riffs and the groove that so many other desert rockers are lacking at the moment.Other highlights for me is "Smoke Tree" and "Desert Dogs" which are other riff driven examples of what this band is capable of.Special mention must go to the solo's which are nothing short of excellent.The only odd one of the bunch is "Cheap And Portable" which is a short blues interlude that still fits in nicely with the rest of the album.The album is shortish,only 35 minutes which leaves you hanging for more.Production on this album is awesome also,plenty of crunch.This is a great album which begs the question why isnt this band already Stoner,Desert Rock legends,i think in time this will happen.Buy it...."

"Okay. Fact is this: There was just about no way I was going to approach this album with anything even closely resembling objectivity after a first listen confirmed the track "King Platypus" was indeed about what the title advertised. So Dali's Llama is a desert rock trio from Palm Springs produced by Scott Reeder (The Obsessed, Kyuss, Goatsnake, etc.) who are actually singing about protecting the habitat of wild platipi? "Leave king platypus alone." Fuckin' sold — what else ya got?

As the back cover of Dali's Llama's Full on Dunes (Dali's Llama Records), shown right, demonstrates, the band's second album is almost entirely free of pretense. Zach and Erica Huskey (guitar/vocals and bass, respectively) and Jeff Howe (drums) rock with a "What you see is what you get" mentality, setting an expectation for high-end desert/stoner grooves and making good across the nine tracks that comprise the offering. There are elements of post-punk, but the simplicity of the band's driving, groove-centric scope is the factor that carries the all-endearing approach across so well.

Easily memorable cuts like "Floating" and "Desert Dogs" -- the latter featuring a Mario Lalli (Fatso Jetson) guitar and spoken word contribution -- epitomize the vibe that pervades throughout Full on Dunes -- and that is one of a band simply having a good time with their friends. Alongside Lalli and Reeder, who in addition to producing guests on bass for the anti-establishment "Can't Catch Me" and the purely desert catchy "Floating," visitations from Joe Dillon (Hot Beat Pussy Fiend) and Capt. Sean Wheeler (Throw Rag, Sun Trash) assist in conveying a laid back, anything-goes feel, as much manifest in the music as anything else.

It is a casual record, clearly meant to be experienced on that level, and so I will spare the excessive description. Suffice it to say that Full on Dunes, recorded over four days May 2-6, 2008, successfully builds atop the rudimentary desert rock groundwork it lays, not innovating so much as pursuing a well-trodden path with deeper footprints. For the Fu Manchu fuzz fan there is closer "Aqua-Fuzz" (seriously, it's all pretty up front), and for the more melancholy Orquesta del Desierto aficionado, there's the acoustic John Lee Hooker-styled "Cheap and Portable." As the album centerpiece, this track portends the satisfying structural gameyness that riffy, longest cut "Floating" delivers, and is affirmed by the laser-fied roots aridity of "Full On."

Dali's Llama could hardly be called innovators, but the true desert scene could hardly exist in 2009 without them. Likewise, Full on Dunes doesn't push the limits of what desert rock conveys, but, taken as is, it should satisfy any willing devotee seeking something comfortable but new. They may not be the ones to push the genre headfirst into its next generation, but they're definitely helping to bridge the gap. And hey man, leave king platypus alone. It doesn't get much more charming than that."

"Zach Huskey and Dali's Llama are a tad heavier this time around judging by the voluminous FULL ON DUNES. Once again boasting special guest appearances (this time featuring the likes of Mario Lalli and album producer Scott Reeder), this nine-track excursion drives harder than previous releases, as cuts like the fun and fuzzy "Full On" rocks and "Smoke Tree" rip through the speakers with Alice In Chains-esque intensity while "Floating" exhibits this trio's ability to launch itself deep out of the orbit. As much as this batch of tunes bite, the overall feel of this disc also resonates with the looseness of old friends playing around the campfire, most noticeably on cuts like "Cheap and Portable." Acting as a sidebar to Desert Sessions of sorts while functioning as a full-time project, Dali's Llama provides an outlet for worshippers of the movement to get their kicks."

- Mike SOS, ROUGHEDGE.COM and GEARSOFROCK.COM
"Una verdadera sorpresa y un honor. Esta excelente producción me llegó de absoluto improviso, sin pedir ni creer en la remota posibilidad de conseguirlo, pero he aquí, sonando. Dali's Llama y su ultimo larga duración, "Full On Dunes". 9 cortes del mejor stoner rock psicodélico del último tiempo, y como no!!!, si cuenta con la increíble producción del "amigo latino" Scott Reeder, de los dioses Kyuss/Goatsnake. Imaginen, ¿pueden?, ¿cierto? Para los que no están al tanto, una idea: mezcla Kyuss, Yawning Man, Colour Haze, Hendrix, Pink Floyd, su toque Nirvana/Melvins, drogas al por mayor, etc, y échalas en una licuadora… uffffff!!!!, que viaje no!!! Eso es Dali's Llama, un excelente viaje. Desde el primer corte, "On Dunes", hasta el último, "Aqua-Fuzz", deliciosas melodías en estilo jam intenso, pero ojo… no es tan sólo jam, son temas bien estructurados que denotan trabajo y compromiso. La banda la componen Zach Huskey, líder de le impulsor del sello Dali's Llama Records; Erica Huskey y Jeff Howe. Participan, de manera extraordinaria, los siguientes personajes: Mario Lalli (Gallery of Mites, Fatso Jetson, Yawning Man), el mismísimo Scott Reeder (sí señores!!!), Sean Wheeler y Joe Dillon. Con un artwork que mezcla el desierto/autos con imágenes del oriente indio, Dali's Llama se hace notar. Por info. y mercancías varias ingresen a www.dalisllamarecords.com o www.myspace.com/dalisllama."

- Hugo Franco, SLOWBURN.CL
"Fucking toad fulla red wine and buckshot rock is what everyone says. Well... I will concur BUT amend Dali's Llama never get boring and beat you over the head with stupe via dullish boogie, they beat you with classic Chuck Berry tuck-the-pinky-in via slurried desert blues abstracted from the sensible space between Thin White Rope and Kyuss. Their "boogie" is chopped and channeled with a tension/release akin to the great early '70s Brit blues-rock stuff; The Groundhogs, The Edgar Broughton Band, Savoy Brown, Free with thee, uh, relaxed approach of AY-CE-fucking-DEE-fucking-CEE in '76 pork roast mode. It ain't all frenzy folks, it's got the swagger Kiss touched during "God of Thunder" and Grand Funk 'n' The James Gang groped a dozen times during many a prom, all cut with a grit-in-the-eye sensibility. The grin that knows "Hey, it's all sweat and jizz 'til someone has to pay child support." Damn.

All this really means (I get paid by the word, so yer gonna get a few extra) is you get gummy riffs sticking to ANY black t-shirt that contained a yowler who yowled at The MC5, yowled at Thin Lizzy, yowled at Saxon, then yowled at Green River, yowled at Fatso Jetson, and takes his nephew to the Motörhead, Misfits, Year Long Disaster, Valient Thorr tour BUT only after the Glasspack, Totimoshi, Nebula show (salting the Nation's better clubs this Fall). C'mon, I've sailed on the good ship D.L. for a few years now and I'm not getting' off 'cause they get in there and slug-it-out with 50 years of rock plus roll plus roots fuel bulking up their wood-choppin', sand-surfin', swamp-skatin' bar hum. Shit, this elemental can't fake it: You'd know before the first tune was a minute in. Hey, if they weren't fucking "it," they wouldn't have folks from Throw Rag, Kyuss, Yawning Man, and Hot Beast Pussy Fiend chipping in, would they?"
- Craig Regala, LOLLIPOP.com
"Dali's Llama have kicked it up a notch. Their last album was good. "Full on Dunes" is even better. Groovy and psychedelic baby! Dali's Llama has concocted a flavor of its own, which is a good thing in a stoner rock scene that's starting to seem a tad glutted to me. Song constructions are diverse, with rockier tunes giving way to slower progressions (though no descent into attention-challenging drone). Flowing, wicked grooves that make the neck and head move! There's tons more artistic poetry in their music than in that last phrase of mine! A sense of fun and a little cutting attitude.

Swelling waves of trip-distortion sweep across the hearer, big liquid pulses of dense rock-n-roll energy that make Dali's Llama a good go-to act for those needing a stoner rock fix. And this band has the coolest name in the genre. It calls to mind both the surrealist mesmerism of the artist Dali as well as the mysticism of the Buddhist leader."
- Upchuck Undergrind, CORAZINE.com
"FULL ON DUNES is a big surprise! I haven't heard so far from that band (but they released 6 CDs so far), but I was impressed from the first second. The album got produced by Scott Reeder from the mighty KYUSS and the sound is awesome! The record features special guest appearances by Mario Lalli (Fatso Jetson, Desert Sessions, Yawning Man, great guitars especially on CHEAP AND PORTABLE), Capt. Sean Wheeler ( Throw Rag, Charley Horse, Sun Trash), Joe Dillon (Hot Beat Pussy Fiend) and Scott Reeder (Kyuss, The Obsessed, Goatsnake). Starting with the mighty ON DUNES, which will blow you away with a mighty groove. The songs are heavier as the old material (note from the info-sheet) and the new drummer Jeff provides a solid driving rhythm. Maybe that is the point of the heavier and more groovy material. Songs like the mentioned ON DUNES, CAN'T CATCH ME (in my eyes the highlight on the record, including Mario Lallis guitar again and Scott Reeders bass solo) or the relaxed CHEAP AND PORTABLE are in the same league as CHE or MASTERS OF REALITY. This is true sounding southern California desert rock with great fuzz guitars. The mighty FLOATING starts with a ALICE IN CHAINS like riff and turns into a great smoothie song. I think this nine energetic songs are a must have for all Stoner / Desert / Fuzz Rock fans and I think the heaviest and fastest record from Zach Huskey (guitar, vocals) and Erica Huskey (bass) (plus the new drummer Jeff Howe). GET IT!

Genre: Stoner Rock
Music: 9
Sound: 9
Info: 9 Songs / 35 minutes"
- Jochen, DAREDEVILRECORDS.de
"Dali's Llama have the perfect knack of describing their albums - just read the title! Last year's Sweet Sludge was indeed beautiful sweet sludge, and this year's new release "Full On Dunes" is indeed full on! In their own description Dali's say "Heavier, thicker and faster songs than on our last cd" and I would totally agree, adding that Full On Dunes has much more light and shade than Sweet Sludge with surprises around every corner. If you like your rock full of riffing mayhem and beautiful slabs of heavy thundering bass (the sort of stuff Lemmy would be proud of) then this is the album for you!

Starting with On Dunes and a spine tingling doomy riff that takes you out into the desert and back to an earlier time, followed by some wonderfully worked vocal, guitar and bass interchanges, should have everybody grooving along in no time at all. Immediately followed by Can't Catch Me and a rally against big corporations and big brother, picking up where Micro Giant left off last year. All this and some beautiful bass work from the one and only Scott Reeder. King Platypus, is another driving stomping riff driven anthem with a beautiful 60s motif - "Leave King Platypus alone!" Desert Dogs - hard to pick a favourite on this album when there are so many to pick from - but Desert Dogs has to be the best of the bunch - again thundering riffs and as I said earlier the most amazing bass work and sound this side of a Motorhead album - surely going to be a live favourite! Cheap And Portable an perfect example of the light and shade on this album, a beautiful introspective bluesy number with some sublime lapsteel work from Joe Dillion and then there is Floating that wouldn't be out of place on a 1970's Aerosmith album. And I haven't even mentioned Smoke Tree, Full On and Aqua-Fuzz - go buy the album and discover them for yourselves - you won't regret it I promise


Oh and did I mention the production work by Scott Reeder, play it loud and bask in the sonic glory!"

- MotorMoby, LASTFM.com
"While Dali Llama's last offering, 2007's Sweet Sludge, had its fans, I wasn't among them. I eventually found some gems (three of 'em, according to my review), but let's be blunt - straightforward rock isn't the type of music that should require in-depth listening. It's gotta get up and go from the get-go, not require you to sit around and wait for something to grab you.


For their seventh album, Full on Dunes, the Palm Springs-based understands this. The album starts with the barreling, bellicose "On Dunes" and lays into a pretty much relentless groove for the remainder of the album, knocking out killer tracks like "King Platypus," "Desert Dogs," "Smoke Tree," and "Full On." Despite their location and ample use of the Big Muff, the band's more in line with 80's biker rock than stoner rock. That was the same deal on Sweet Sludge, but here the simple riffs and earthy tones are complimented by a consistently high energy level and stronger, more confident vocals.

Full on Dunes is pretty much a winner. If you haven't heard of the band before, I've got no qualms recommending this as the starting point.

- John Pegoraro, STONERROCK.com

"Husband and wife team Zach and Erica Huskey are the epitome of do-it-yourself rock and rollers. Pounding out a monstrous, riff-heavy mound of desert sludge over a career that already spans 7 CD's, Dali's Llama new disc Full on Dunes is just what the title describes; a full on assault of sludgy, desert riff madness, stoner rock and roll. Produced by Scott Reeder (Kyuss, The Obsessed, Goatsnake) who also lends his prodigious bass to several tracks, this is a speaker blasting fest of organic, fuzzed out heavy psychedelic rock.

Recorded at a ranch somewhere out in the desert over a shockingly short period of time, Dali's Llama don't mess with ego-propping bouts of guitar wizardy. Zach Huskey is all about the riff, baby, and he knows how to bring those bad boys on. Just check out the full-on groove of "King Platypus," and you'll instantly fall under the Dali's Llama spell, or should I say worship at their temple of riffdom. "On Dunes," starts off deep and heavy, doom-laden post-Sabbath, post-Kyuss infected distorted blues metal, until the crew lock into that groove, which they proceed to ride harder than a dune buggy across their desert landscape. This is head-bobbing stoner metal, so lost in the desert you'll need to empty the sand out of your shoes when the song is done.

"Can't Catch Me," digs deep into the Poobah guitar effects bag of pedals, pulling out a psychotropically distorted guitar vibe, running like a sine wave across the pummeling heavy bass and earth shattering drum beat. This is a mushroom freakout around a bonfire. Some ritual ceremony where fortunately, no one was hurt. The aptly named "Desert Dogs," keeps the groove and riff charging as straight ahead and satisfying as anything in the genre. And the disc goes on from there with nary a hiccup. D.I.Y. or not, Dali's Llama have produced a genuine rocker of deep desert sludge that's just sitting there on the dune waiting to be heard. Don't miss it.
- Racer X, RIPPLEMUSIC.BLOGSPOT.com
"A year ago I got a review copy of the previous Dali's Llama CD called Sweet Sludge and I liked it very much but this time this band that plays dirty and heavy desert rock has surpassed my expectations. I have some difficulties trying to label them, but their music has elements from at least heavy rock, The Obsessed styled doom, punk, grunge and stoner/desert rock. Most of the tracks rock hard in mid-tempo. There is also one minimal Southern blues number called "Desert Dogs" that also has acoustic guitar.

The basic riff from the track "Floating" might well be by The Bevis Frond but the rest of the song does bring to mind The Obsessed as well as the excellent "On Dunes" with its meditative beginning and "Can't Catch Me" that even gets close to Saint Vitus. "Full On" is a really tight blast that rocks very well and includes a catchy chorus! Another killer is the energetically rocking "King Platypus" that also has some slower stuff. One of the best pieces is the album's final track "Agua-Fuzz" that's heavy and slow and starts off peacefully. "Smoke Tree" is a bit grunge styled, dirty bad ass rock'n'roll number. There seems to be more guitar solos this time around which is nice. The production is also superb with Scott Reeder (Kyuss, The Obsessed etc.) on the job again. Scott also plays bass on a couple of tracks (especially the fuzz bass solo on "Floating" is awesome!) and there are also other guests on the album. This is powerful stuff and comes warmly recommended!

- DJ Astro, PSYCHOTROPIC ZONE
"Being an artist is partially about the struggle to expose one's own guts to an indifferent public. Authentic recognition is never immediate, for worthy artists dwelling in obscurity will be a hopefully passing phase on the road to attention. Luck plays a big part of this process, but so does having a relentless attitude and great creativity. Not many underground musicians know this as well as California's Zach Huskey, who has been writing poetry and putting out albums with his band Dali's Llama since the mid/early 90's. I am totally unfamiliar with any of the five albums that precede 2007's Sweet Sludge but from what I read, especially their first couple of releases, have a distant sound to the earthly stoner rock of today's Dali's Llama.

Sweet Sludge was produced by no other than Scott Reeder (from Kyuss fame). He has done justice to the music by emphasizing warm tones and keeping the level of distortion to a minimum while still featuring a tacit heavy stoner guitar sound. The drum sound could have been improved, the tom toms are almost inaudible and the snare sounds pretty hollow, but the overall production lets the songs speak for themselves. Sweet Sludge is a grower. The first couple of times I listened to it I did not exactly get it. The next couple of times, it started to grow on me, and the laid back moods and mid-tempo pace of the album became unobjectionable. Huskey's melodies are sublime. He doesn't go for big melodramatic hooks and he doesn't indulge in free form jamming or lengthy pointless guitar soloing. There is not a lot of blues here either. Instead, Huskey knows what he is good at so he sticks to three to five minute songs based around simple riffing and his laid back singing style. As the album moves on we realize that there are other influences at work, the desert rock of Kyuss is just one of many. The title track has a guitar that reminisces of AC/DC (I know I said 'no blues'), "Micro Giant" is pure 70's rock, but keeping within geographic range, "Creosote", especially in vocal pitch, remind of the Masters of Reality.

Also produced by Scott Reeder is Dali's Llama 2008 effort Full On Dunes. Here, our friend Huskey who along with his bassist wife Erica and new drummer Jeff Howe get a little soiree going by indulging in the bass abilities of Reeder himself, the guitar and vocal skills of Fatso Jetson's Mario Lalli and a couple of others. The overall production sound is better, the guitars have a more live feel to 'em and the vocals of Huskey transmit more energy. Overall, there is a more upbeat feel to this record that distances the band even more from the desert rock of Kyuss I was so sure this band would indulge in. "Can't Catch Me" starts off like a Clutch track, with the vocals being mimicked by the guitars only to drift towards a sunny Lalli guitar solo and latter tracks like "King Platypus" tip toeing 70's rock and roll and blues. "Cheap and Portable" is a semi-plugged bayou slide guitar blues number. It's a nice touch, a good contrast, and perhaps a window into where this underrated, overlooked and pretty worthy trio may be heading. Full On Dunes covers more ground than Sweet Sludge, it's got more moods, it's more upbeat and far bluesier. It's guitars run in wilder manners, therefore this album has more freedom. But both are just as solid."

"The fuzzed-out guitars with more than a touch of a BLACK SABBATH influence lands three-piece band DALI'S LLAMA's firmly in the stoner rock category. The vocals are often reminiscent of Layne Stayley, but the music on "Full On Dunes" is for the most part far heavier than anything ALICE IN CHAINS ever released. The spoken-word section of "King Platypus" has a similar feel to the intro to MC5's "Kick Out The Jams" and then a grooving fuzzed-out rockin' heaviness kicks in. "Cheap and Portable" slows the tempo down with a JOHN FOGERTY sort of sound. "Floating" continues in a mellower vein with a laid-back ALICE IN CHAINS vibe. Then the band picks up the heaviness again in the final songs. Oddly this album seems to end sort of abruptly, despite the 4-minutes of stoner groove in closer "Aqua-fuzz". Maybe it's just an odd choice for a final song, who knows?

Additionally, the production by Scott Reeder is great. The vocals and overdriven guitars are the strongest feature in the mix, while drums lurk in the background but thankfully not too much. If stoner rock is your cup of green herbal tea then you could do far worse than picking up "Full On Dunes"

- Carr, PEACEDOGMAN.com
"With the modern revival of heavy psychedelic movement, with it's heavily produced and textured layers, it's easy to forget that the original movement didn't go for all the studio tricks you see today. Back in the days of Black Sabbath, the psychedelic haze of their music wasn't pretty. It was a blunt instrument of guitar sludge. California's Dali's Llama get that and their music is heavily influenced by the heavier end of 70s rock and, to a lesser extent, the stoner rock movement of the 90s. In fact, the band features ex-Kyuss bassist Scott Reeder on several tracks. While this band doesn't break much in the way of new ground, their sound is very refreshing when compared to the more proggy end of psychedelic rock so prominent in music right now. These guys sound so dirty, it sounds like they would take The Mars Volta out into back alley and punch their teeth in, biker style. Think less Black Mountain, more Black Oak Arkansas and you get the idea. They've got the sound down so well, you can almost forgive them for the hokey band name."

- Steve Marlow, EARSHOT-ONLINE.com
"The starting point of Dali's Llama music can be found in the southern stoner blues rock genre played by Masters Of Reality, ZZ Top, Clutch and Kyuss and also in the savage punishing sonic assaults of Melvins and Totimoshi.

Monolithic riffing to the bone comes at you when the title track crawls slowly out of your speakers, this is a really heavy crusher. With the vibrant opener "On dunes" and on through powerhouse tracks "Can't catch me" and "King Platypus" showcase a solid hard rock vibe that'll rattle your head. "Floating" is southern swamp boogie metal with spectacular bluesy break neck guitarwork by Zach Huskey and Joe Dillon and a distorted bass solo by Scott Reeder. that leaves the listener breathless. "Full on" and "Desert dogs" are riff and feel-driven, beer filling and headbanging sludge rock. There are also hints of Mark Lanegan Band particularly in the moody, cajun feel of "Cheap and portable" by far one of the sweetest songs on the CD. Although Zach Huskey can hardly be considered a great vocalist his style fit the Dali's Llama-sound perfectly. This disc is a 9-track ass-shaking odyssey of killer desert-influenced rock 'n' roll full of gruff vocals, subtle melodic moments and the best fitting balls to the wall production. Full On Dunes was produced and engineered by barefooted fuzz magician Scott Reeder, who did a very good job.

If I had a complaint about this album it would be that it is over too quickly with only 35 minutes, which is a shame."

- Cosmicmasseur, CONCRETEWEB.be
"Here is another album full of top-notch stoner/desert rock from this great band. This is some of the best of this style in a decade! Unsurprisingly, people are taking notice, as this features guest spots from Scott Reeder of Kyuss as well as folks from Fatso Jetson and Throw Rag. Nine songs of heavy rock with perfect production, great vocals, and killer vibe. It is not likely to get better than this. Fans of Unida/Kyuss/Nebula/Fu Manchu: meet your new favorite band."

- Mike Frame, RAZORCAKE.org
---
---

Heavier, thicker and faster songs than on our last cd "Sweet Sludge", "Full On Dunes" offers nine new energetic tunes that blend our desert punk and heavy rock roots. As usual, every song features Zach's forever devotion to the riff.

Three songs from "Full On Dunes" will be featured in the new movie "Shoot The Hero" starring Jason Mewes (Clerks/Zack and Miri Make a Porno), Danny Trejo (Con Air/Heat) and Nick Turturro (Mo Better Blues/The Longest Yard). The movie is about a 30-something couple who unintentionally become involved in a botched jewel heist while shopping for wedding rings. The plot thickens when the crooked casino owner who engineered the heist hires two unassuming hit men to clean up the mess, and the soon-to-be husband and wife find themselves discovering new things about themselves and their relationship. The movie features the songs "Floating", "On Dunes" and "Cheap and Portable".
Check out the movie website for more info: www.shootthehero.com
---
---

On Dunes
Can't Catch Me
King Platypus
Desert Dogs
Cheap and Portable
Smoke Tree
Floating
Full On
Aqua - Fuzz
---
---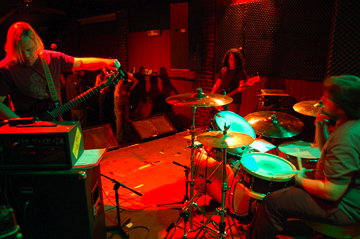 Zach Huskey - guitar & vocals · Erica Huskey - bass standard & bowed electric · Jeff Howe - drums & percussion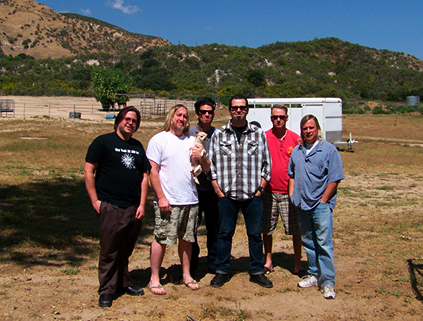 Special Guests (between Jeff & Zach from left to right):
Scott Reeder (Kyuss, The Obsessed Goatsnake) - bass
Capt. Sean Wheeler (Throw Rag, Charley Horse, Sun Trash) - vocals
Mario Lalli (Fatso Jetson, Yawning Man, Desert Sessions) - guitar & spoken word
Joe Dillon (Hot Beat Pussy Fiend) - guitar, vocals & lap steel