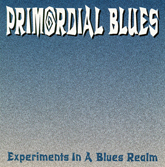 ---
Reviews - Song Titles - Band Photo - Purchase CD
---

"...Raw, earthy and electrifying, the Palm Springs group are not bluesy in the purist sense. Reminiscent of the unbridled raunch of Jon Spencer and the Cramps their experiments take in sleazy rockabilly, frenetic jazz, and noisy r&b. The sneering, 60's-punk vocals and wigged-out primitive three-chord songs have a definite garage feel to them. Primordial Blues offers a thankfully snotty, untutored take on a conventional form. Brace yourself."
- Arthur Brennan, BAM
"Only three titles are blues (Fortune Cookie/Room Downtown/Waiting It Out), the balance shows that Primordial Blues is primarily a punkabilly band. Zach Huskey is unusually skilled for a player in this genre-or is that condescension? Doesn't Nels Cline play with the Geraldine Fibbers? In the brilliant slow blues "Fortune Cookie" his lyrical invention sounds inspired by his delicate interplay with Harrison's black stick. In "Opposites" Huskey's solo recalls Jerry Garcia at his most creative."
- David Lewis, CADENCE
"...The rough edged guitar sound and blues riffs that can only come from the soul are the strongest points of this recording. There are a number of extended solos that are never tiresome. There is no way to overemphasize the raw nature of this band. At times you feel like you are listening to some friends jammin'. I have a feeling John Lee Hooker would feel right at home. I would like to catch them live sometime. If you are a blues lover, pick this CD up. You won't be disappointed."
- Jack Bolt, Music & Entertainment Magazine
---
---

Prickly Peach
Make Me Jerk
Fortune Cookie*
Infected With The Blues
Room Downtown
Take Me Back
Get Along
Opposites*
Jump Thang
Freaky Little Leopard Girl
Waiting It Out
The Color Of Apples
She's My Free*
Mojave Moon*


---
---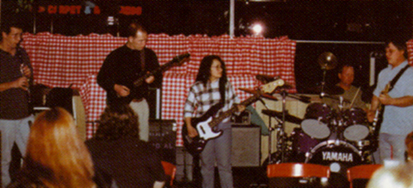 Matthew Harrison - clarinet*, Eric Overton - guitar/b. vocals, Erica Huskey - bass,
Kurt Selzer - drums, Zach Huskey - guitar/vocals