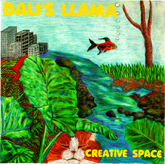 ---
Reviews - Brief Description - Song Titles - Band Photo - Purchase CD
---

"Irresistible power-pop melodies form a solid base for vocals that move from soft and contemplative to hard and adventurous... Creative Space will have you wishing that vocalist Zach Huskey would jump out of the speakers and chew a little on your earlobe...something he comes close to doing on the last track... a quirky bluegrass drawlfest."
- Andrea Mulder, GIG
"...it's quality, catchy stuff..."
- Matt Hickey, MAGNET
---
---

DALI'S LLAMA's second cd release, "Creative Space" is full of more aggressive songs ranging in influences of power pop, punk, blues & bluegrass/dixieland. N.O.R. (Notes On Retail), where Zach expresses his feeling on working for years in a bookstore, contains a prime example of DALI'S LLAMA's exploration into improvisational extended solos. Listen and Hermit's Dream, two songs off of "Creative Space" cd were featured in the independent movie release Drums, Bass and Guitar.
---
---

Hermit's Dream
In General
Creative Space
T.V.
Sleeping
Eventually Better
Old Money
Listen
On It
Holiday In June
N.O.R. (Notes on Retail)
Go


---
---
Zach Huskey - guitars/vocals/recorder/kazoo, Erica Faber - bass/b. vocals/piano,
Johnnie Moreno - drums/percussion