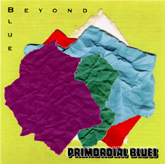 ---
Reviews - Brief Description - Song Titles - Band Photo - Purchase CD
---

"Primordial Blues is a California-based quartet made up of singer-guitarist Zach Huskey, guitarist Eric Overton, bassist Erica Huskey, and drummer Kurt Selzer that ventures well beyond blues to create music that's equally informed by rock, folk, and surf. Even more distinctive than the band's sound are Zach Huskey's lyrics, most of which deal with topics rarely addressed in conventional blues."
- JDK, Living Blues
---
---

With this cd, Beyond Blue - PRIMORDIAL BLUES has chosen to go beyond the "blues realm". Fifteen new songs - some blues, some rock, some jazz, some noise and yes, even some good ol' pop thangs for good measure.
This time Zach Huskey serves up a more controlled bag of tunes. As he puts it, "this cd is more song orientated." Lyrics about everything from philosophy, inner struggles, war, sex, racism, cactus love, homo phobia, anti-semitism, religion, hope, homelessness, solitude, silence, nonsense, nostalgia and nothingness. His guitar playing is still eclectic and blue - in your face but always on your side. Erica Huskey is back again thumping the thump. Check out F is for Bass and Rocket to hear what we mean. Eric Overton plays a bit more lead guitar on a couple songs than he did on the last outing but rhythm is still his thang. Check out his slide work on Mama Whitney and those cool licks behind the stinging verses of Poor Baby. Drummer Kurt Selzer once again proves he's the man - just take a listen to Art & Soul and Coffee At Midnight - 'nuff said.
This is PRIMORDIAL BLUES and it's Beyond Blue - beyond the last "experiment" and on to the next one. These cats are always moving forward so check this disc out before you get left behind in some crazy, hot Sonoran desert sand storm!
---
---

Cricket Cage
Rocket
Poor Baby
Blind Somebody
Bounce For Me
Wake Up!
Mama Whitney
Art & Soul
Kelly Green
Ghost Town
Coffee At Midnight
If By Chance
Cholla Blues
Egoville
F is for Bass


---
---