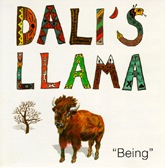 ---
Reviews - Brief Description - Song Titles - Band Photo - Purchase CD
---

"I detect a lot more soul in this 11 song CD. "Be This Moment" impressed from the first 10 seconds, as being serious yet catchy rock tune...evolution, diversity, and maturity."
- Sophia Possidon, FLIPSIDE
---
---

The third cd release by DALI'S LLAMA, "Being", consists of eleven intelligent, hard, eclectic, rock n' roll songs. These songs show the influence of such rock artists as The Who, Jimi Hendrix, Neil Young, Television and Elvis Costello. Also heard within the songs are the influences of jazz and world music artists such as John Coltrane, Bob Marley, John Trudell, Lounge Lizards and various blues and aboriginal people's music.
"Being" features the songs Be This Moment, Wilderness, Muse and Longevity as well as seven other powerful songs that demonstrate the diverse interests of DALI'S LLAMA and the true musicianship of it's members.
---
---

Be This Moment
Just A Friend
Metrophobia
Born Trying
Muse
Progress
Longevity
Wilderness
Truth
Woe Is Me
Mending Fences


---
---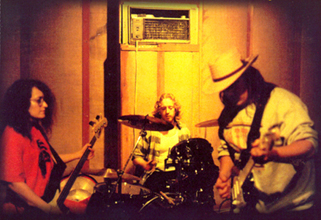 Erica Faber - bass/b. vocals, Ian Dye - drums/b. vocals/bagpipe sample on "Progress",
Zach Huskey - guitar/vocals