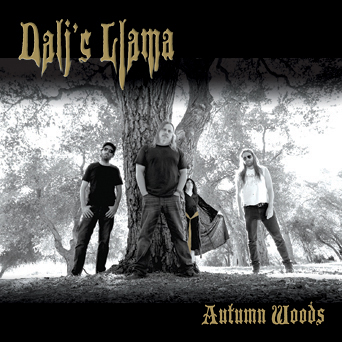 ---
Reviews - Brief Description - Song Titles - Band Photo - Purchase CD - MySpace - Facebook
---
Dali's Llama, Autumn Woods: Tree in Your Forest
"Undervalued stalwarts Dali's Llama are the kind of band that 15 years from now someone's going to make a documentary about. And rightly so. The largely-unpromoted desert rocking Palm Springs, California, foursome will celebrate two full decades of existence in 2013, and they hit that anniversary behind the release of their beefy 10th (or possibly 11th) album, Autumn Woods. As always, they've issued the disc via their own Dali's Llama Records, and where their prior outing, 2010's Howl Do You Do?, saw them step outside of their long-since established desert blues rock aesthetic, and frontman Zach Huskey (vocals/guitar) veered even further away from Dali's Llama in 2011 with the heavy rocking side-project Ogressa's Warts and All debut, Autumn Woods makes for an excellent homecoming while still providing a twist on the more trademark desert-isms of records like 2009's Raw is Real or the prior Full on Dunes. As one might be able to glean from looking at bassist Erica Huskey in the photo on the album's cover - clad in a cape and peeking out from behind a tree to look at the sky while drummer Craig Brown, her guitarist/vocalist/husband Zach, and guitarist Joe Wangler stand out front - not to mention the title itself, Autumn Woods is less about desert sands than it is darker atmospheres derived from classic metal. Dali's Llama aren't about to start writing about castles, steeds or epic battles, but filtering thicker distortion and more metallic atmospheres through their inherent desertitude (*copyright The Obelisk 2012), the Huskeys, Wangler and Brown both return to their musical roots and stem from them in a new and exciting way. A production job from none other than Scott Reeder presents Dali's Llama with suitable tonal thickness on cuts like "The Gods" or the 9:36 centerpiece title-track, but still leaves the band room to move in terms of tempo, as they do on the punkier opener "Bad Dreams" or later "P.O.A.," which starts off with a near-thrash intensity before cutting the pace for a more grooving second half... of its total 1:26.
That's one thing that's always been true of Dali's Llama since I first encountered them: they are remarkably efficient. Like Howl Do You Do? was with its focus on classic horror punk and alternate reality early '60s surf, Autumn Woods sounds like an album approached with a specific sonic concept in mind, i.e. someone in the band saying, "Let's make a record that sounds like this." And they do. Top to bottom, Autumn Woods retains Dali's Llama's characteristic lack of pretense even as it's based entirely on one - namely, that they're a metal band. Of course, they're not a metal band, and through Zach lets out a scream before the apex of penultimate track "O.K. Freak Out," at their core, they're still playing heavy desert rock and they retain the penchant for wah, for rolling groove and for classic rock structures led by riffs. No complaints at that. Catchy highlights "Goatface," "Nostalgia" - on which cleaner vocals top a more open verse before the chorus takes flight - and the later Sabbathian "The Gods" provide landmarks around the title-track, and each song presents a personality of its own despite sharing the elements of chugging guitar, straightforward vibes and variations on Zach's punker-bluesman's snarl. The lead lines in "Blowholes and Fur" seem to nod at Deep Purple's "Woman from Tokyo," but even this Dali's Llama work quickly to make their own, and while it's a strong and distinguishable instrumental hook, the context they give it makes all the difference, accompanying a meaty chug made even thicker by Erica's concurrent low end work. Even on "Autumn Woods," I wouldn't call them showy, but the extended cut (the next closest is "O.K. Freak Out" at 5:22, though "The Gods," which follows, also hits 5:19) does give them room to range as far as they'd like, which structurally is something of a departure, despite Zach's croon tying the early verses to the rest of the album and indeed to Dali's Llama's already formidable discography. The chief difference seems to be a sense of patience that a lot of the songs - derived from grown-up punk as so much heavy rock is; ask Fatso Jetson if you don't believe me - eschew. Very subtly, the four-piece move into a darker soft of jam from the initial verses, letting a slower jam take hold amid Danzig-style atmospherics and a gradual push.
There's a discernible break after six minutes in from which the final instrumental crux takes hold, descending guitar lines from Zach and Joe leading the way while Craig underscores with solid tom-hit timekeeping. Because it never gets out of control or overly raucous, it makes a better centerpiece than a closer - one imagines that after 10 records, Dali's Llama have a pretty good sense of how they want to structure a tracklist - and the apex of Autumn Woods comes not with its eponymous cut, but with the later "O.K. Freak Out," which at about 3:45 slams into the peak of the record with fervent crashes from Craig, raging, dueling solos from Zach and Joe and an increasing tempo held together by Erica's bass. They build it until there's nothing more to build on and fade, and it seems reasonable for the album to be over right there, but the acoustic afterthought "Resolved" brings about a feeling of finality worthy of its title. There's some soothing interplay between electric and the acoustic guitar, but what really makes the track is the intimacy of the atmosphere and Zach's quiet vocal. It may be the epilogue to the album's varying exploits, but "Resolved" proves much more than epilogue or a last-minute shot of sentimentality to try and give the earlier rockin' some kind of emotional context. The song holds firm to structures similar to much of the record, but has its execution unto itself, and when the electric lead enters over the acoustic rhythm and continues to back Zach's final chorus with ethereal, almost ghosting, notes, the effect is more kaleidoscopic than any hint the mostly black and white album art might give. I'd be interested to hear Dali's Llama develop a record or at least an EP of stripped-down desert acoustic ephemeralities, to find out what they might be able to do letting the subdued jams take hold - though if "Resolved" is anything to go by, that would mean a severe cut in Craig's contributions; perhaps some alternate percussion could fill the void, but it's moot since we're talking hypothetically - and it wouldn't necessarily be out of character for them to take on such a project, given the expanses they've covered between Autumn Woods and Howl Do You Do? Whatever their next outing might bring, Autumn Woods proves two pivotal facts about Dali's Llama: First, that the band remains passionate about exploring new musical avenues even 20 years into their run, and second, that they're among the most underappreciated acts ever to roam the Californian desert. I find it affirming to see they're showing no signs of letting that slow them down. True rock from lifer rockers." - THEOBELISK.NET
Dali's Llama - Autumn Woods (Dali's Llama Records)
"Palm Springs' stoner champions Dali's Llama return with their 10th album Autumn Woods and it's probably from start to finish their heaviest slab of riff-tastic granite to date. This band has been an institution since '93, and over the past couple of years I've found myself becoming more and more obsessed with them. They break in a new 2nd guitarist Joe Wangler on this effort who replaces Joe Dillon's contributions on the last couple of records. Last we heard from the Llama was the garage-y, organ tinged Howl Do You Do LP which blended the group's fiery, 70s seasoned riff-o-rama with renegade experimentation and beatnik vibes. Autumn Woods sets an earnest eye on the heavy stoner grooves of Man's Ruin Records; an influence that's permeated the band's career since the beginning, while slipping in a toxic, snake-bitten slink that's far more traditional doom than stoner rock, along with a dash of burly, biker brawlin' punk/metal. Armed with an ultra-fat Scott Reeder production job they have no trouble in getting their tones and general point across to the listener. Quench that parched squawk box of yours, and let's head out into the heart of the desert heat!
The dastardly, full bodied hard rock of opener "Bad Dreams" comes off like Motorhead kickin' the shit out of Kyuss, its opening riff bloody red raw and dripping with the intent of doing physical harm to anyone within earshot. Founder Zach Huskey's greasy, oil slick grooves run headlong into the missus' (his wife, and coconspirator Erica Huskey) energetic low-end, and her all around punk rock pile driving while drummer Craig Brown shakes the foundation's steady girders with plenty of his own artillery. Vocally, Mr. Huskey sounds like he polished off a liter of Heaven Hill before recording his vocals, and sounds all the better for it. His voice is sleazy and slithery, perfect for the kind of drugged out riffer-y the band dishes out. Midway through, Zach halts the pace to a screeching, doom-trodden drudge that gives way to a brazen, screaming little solo on the guitar as the speedy kick of cocaine and high grade whiskey returns. "Goatface" reigns in a classic, mid-tempo chunk of 90s stoner rock riffing and a volley of bone dry backbeats to kick things off...the groove the king, queen, and high priestess around these parts. Once the song takes off into a hard charging stoner boogie, it's clear to me that this band should have a similar kind of acclaim to genre stalwarts Kyuss, Fu Manchu, and Dozer. It's cool how one guitar sticks to the riff, and the other plays just slightly over top of it in terms of volume, creating a kind of intricate lead effect to the smoked out grooves. Brown keeps the pace taut and crackling with veracity by adding a variety of fills and fluctuations to his playing style, working hard and throwing some flash in on the snare and the toms, but maintaining strict rock and punk discipline throughout. All the while Erica's never lost in the mix, her bass slung low but really keeping the pulse so to speak...it's the butter that holds the bread together, played more for the ideal of keeping the sound's density intact as opposed to being featured as a lead instrument.
They get crunchy and mean on the Tad-esque "Blowholes and Fur," the guitars dealing out distorted hulking with an angular, noise-rock undercut intersecting the thick, sandy riffage. The chorus reels in a bit of a Seattle vocal hook (along with some slyly delivered, melody draped chords) as Craig rolls back and forth from one end of his kit to the other in a tour de force of graceful brain basher-y. The robust, rhythmic syncopation of QOTSA meets the raging mountain man roar of "Sex God Missy?" Yeah, something fuckin' cool like that! Short, to the point, and ready to rile up a roadside bar full of bruisers and brawlers, "Nostalgia" runs some tread marks down the back of piss drunk, 114 proof stoner rock; the cigarette sheared voice of Zach Huskey creeping and croaking over fattened up blues riffs and a battering ram bottom-end driven by revved up fills and muck lathered bass guitar. The chorus has a catchy punk-rock flow to it, and an ornery set of brimstone casting solos gives way to a vista of triumphant (and surprising) dual axe harmonizing that takes this song from good to goddamn great status. Slowing things down considerably, the title track is a pure slab of unfuckwithable, coal black doom punctuated by cavernous clean guitar melodies that are smothered in FX and anchored by a throbbing low-end pulse, howling vocals, classic rock leads, and riffs that summon similar hopeless voids to the ones patented by the lords and masters St. Vitus (though Sleep's groove sneaks into the bedroom and wakes the children).
Calling to the cornerstones of the almighty riff (Black Sabbath, duh!), the occult flavored blues grooves of "The Gods," seems to be an honorable tribute to the rulers of the doom universe even by namesake. It is as upbeat of a song, as it is a jam covered in cobwebs, catacomb dust, and the lust for getting to the root of the 70's most beloved tones and vibes (played a good deal louder for sure). The hardcore thrashing and ravaging of "P.O.A." has a lot in common with the Llama's mates of state, another criminally underrated animal by the genus name of Floating Goat...they and their homegrown brand of doom, noise-rock, thrash, and vintage amp-age...and this tune is a very kindred spirit to the work of the unstoppably grazing Goat. They dip into the psyche-stoner well of wah-drenched delirium on the Man's Ruin mischief of "O.K. Freak Out," before closing out the record with a somber, subtly layered little piece of mainly acoustic jamming in the form of "Resolved." These two vastly different compositions add another touch of light and shade to the band's brawny but brainy use of contrast; the record ending with a feeling of completeness and total satisfaction if you know what I'm saying.
10 records strong and not a sign of wear, Dali's Llama have put out a record that does some long gone glory days damn proud. For all of the worshippers of Man's Ruin, Smallstone, Tad/Kyuss fronted Elektra Records (in my world, anyway), Black Sabbath, Sleep, and dirt encrusted metal in general, Autumn Woods is an all killer/no filler affair. If you've been stranded without an oasis and lost on the path for true riff rock salvation, this is your ticket to paradise!" - Jay Snyder, HELLRIDEMUSICFORUMS.COM
Dali's Llama - "Autumn Woods"
Underrated and incredibly consistent, Dali's Llama have put out a dozen or so releases in a dozen or so years that have never been anything less than excellent. Whenever I sit down to listen to this band I can't help but think about the hey-day of the Mans Ruin record label and the birth and peak of the stoner-rock movement. It was a time when you could close your eyes and blindly pick out an album from your local music store's stoner section (if they had one) and you would be satisfied every-time. It was a magical time, a time when band after band would emerged seemingly out of nowhere and with a killer album recorded and released. Maybe we were just lucky and maybe we were just spoiled at the time but the stoner/desert rock scene back then was amazingly solid and nothing like the patchy stoner scene that exists today.
When you first hear this band, you think Fu Manchu, Dozer, and of course Kyuss and just like those bands at their peak, this band never releases inconsistent albums. 'Autumn Woods' is a no-holds barred start to finish riff-a-thon that avoids following any one formula and yet this is one of the freshest sounding stoner-rock/metal albums released all year. Their official website describes this album as ....."Heavy Metallic Punk Rock on the Doom and Roll. The 10th Dali's Llama album Autumn Woods blends punk aggression and energy with metal doom heaviness. Produced by the legendary Scott Reeder (bass player - Kyuss, The Obsessed) and mastered by JJ Golden (mastering - OFF!, The Sword). This cd has a similar vibe to Danzig, Black Sabbath, Motorhead, Witch, Zeke, The Damned and Killing Joke". As accurate as that is, they actually sell themselves a little short with that description. One song on this album ('Blowholes and Fur') has a distinct Deep Purple flavor for example but that is only one small piece to the puzzle.
It could be argued that the best stoner/desert rock had a punky quality and after all, the original stoner bands all had one foot in the punk rock scene of the 90's and Dali's Llama do have the metallic-punk meets stoner/garage rock thing perfected in every possible way. However the band isn't your typical stoner-metal act as this has more nods to the 70's hard rock scene than it does 90's desert rock. There is a quality to the songwriting and musicianship that is usually only ever heard from 70's bands which puts this head and shoulders above most other similar bands. I almost feel like song-titles and a track by track review is almost pointless with a band like this. They rarely produce anything that could be classed as "filler" but I will name a few highlights.
The opening 'Bad Dreams' sounds like Motorhead after too many bongs but it kicks total ass. Original band member Zach is again in top form, playing like a demon and with a voice to match. 'Goatface' is next and is one the albums more "retro-rock" sounding tracks with great infectious grooves. 'Nostalgia' makes the marrying of punk-like energy and stoner blues seem effortless while the almost 10 minute marathon which is the title track is simply a orgasmic romp of traditional doom and bluesy 70's proto-metal and is possibly the darkest, doomiest track the band has ever recorded. The albums most sabbathian moment quite appropriately comes in a tune called 'The Gods' which is more than a fitting title for this riff-fest of a tune. Elsewhere the songs range from stoner blues to doom to bludgeoning punk-metal and there is not a nano-second wasted.
After so many years together and with so much music recorded already, it is remarkable that Dali's Llama have still yet to make a wrong turn in their recording career. There is NO other stoner-ish band band with this much consistently good music under their belts. Even so-called gods Kyuss had some iffy moments just 3 albums into their career while Fu Manchu were making some questionable musical decisions a decade or more ago (and still are in my opinion). Dali's Llama continue to satisfy all these years later and now I have read somewhere that someone is making a documentary about them and about time. There are not many other bands within the stoner-rock scene that deserves a film made about them like the Llama do. The band will continue to carry on under-appreciated which is the only tragedy to speak of here. The album is a near perfect example of how to make passionate hard rock music without following a specific formula but without avoiding what makes heavy music so great as in great riffs, vocals and melodies. 'Autumn Woods' is no better or no worse than anything else they have released, in other words....it is excellent...check it out....9.5/10." - Words: Ed & Sally, DOOMMANTIA.COM
---
---

Heavy Metallic Punk Rock on the Doom and Roll. The 10th Dali's Llama album Autumn Woods blends punk aggression and energy with metal doom heaviness. Produced by the legendary Scott Reeder (bass player - Kyuss, The Obsessed) and mastered by JJ Golden (mastering - OFF!, The Sword). This cd has a similar vibe to Danzig, Black Sabbath, Motorhead, Witch, Zeke, The Damned and Killing Joke.
---
---

Bad Dreams
Goatface
Blowholes and Fur
Nostalgia
AutumnWoods
The Gods
P.O.A.
O.K. Freak Out
Resolved
---
---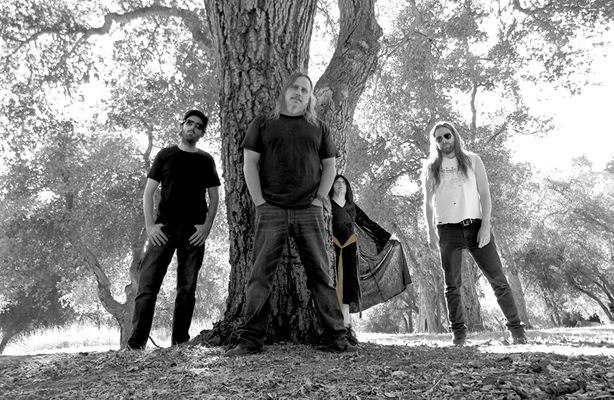 Craig Brown - drums · Zach Huskey - guitar & vocals · Erica Huskey - bass · Joe Wangler - guitar